America Recycles Day
America Recycles Day (ARD), November 15, is the only nationally recognized day dedicated to encouraging Americans to recycle and to buy recycled products.
California Department Of Conservation
The Department of Conservation provides services and information that promote environmental health, economic vitality, informed land-use decisions and sound management of our states natural resources.

CalRecycle
CalRecycle is the new home of California's recycling and waste reduction efforts. Officially known as California Department of Resources Recycling and Recovery.
Earth 911
A public and private sector partnership to empower the public with community specific resources to improve their quality of life.
Environmental Protection Agency
Recycling tips from the Environmental Protection Agency.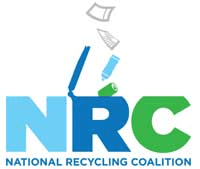 National Recycling Coalition
NRC initiates partnerships between global business leaders and local governments to provide profitable and environmentally innovative solutions to waste reduction.
Napcor
A national trade association that promotes PET recycling and the use of PET plastic. Includes information for starting a community PET recycling program.
Plastics
The Plastics Division of the American Chemistry Council (ACC) represents leading manufacturers of plastic resins.
Solid Waste Association of North America (SWANA)
Advancing the practice of environmentally and economically sound management of municipal solid waste in North America.
Check back for Educational Tool Kits!